O2 and CO2/O2 Controllers for Cell Culture Incubators
The O2 (and CO2 /  O2) Controllers are especially designed to work with Cell Culture Incubators. They are compatible with any Incubator equipped with an access port through which to introduce the gas inlet and the gas sampling tubes. The Controllers feature O2 and CO2 sensors and a built in suction pump to measure gas concentration and provide feedback. 
The O2 (and CO2 /  O2) Meters periodically withdraw a small quantity of gas from the incubator to measure its composition. 
Features
Controllers add 100% CO2 and 100% N2 to the volume in which gas control is desired. 
CO2 range: 0-20%
O2 range: 1-20%
Accuracy: ± 0.1% 
Set Point Resolution: 0.1%; Repeatability: better than 0.1
CO2 sensor: 10 year-life Non Dispersive InfraRed (NDIR) dual wave length detector
O2 sensor: optical sensor - 5 years lifetime
Sensor calibration against external meter or calibration gas
Suitable for semi sealed volumes ranging from 10 to 150 lts
Build in suction pump allows to suck out the gas to perform the concentration measurements
High efficiency dryer to dehumidify the gas for concentration measurement (needed only if gas in controlled volume is humid)
On-board Data logging and download routines to USB drive. 
On-board logging of calibration and alarm events.
Alarm buzzer and External Alarm Connector
RS232 and Mini USB ports for data logging through Okolab DATA LOG software or any third party software via DLL
Available Models
O2-CONTROLLER
CO2-O2-CONTROLLER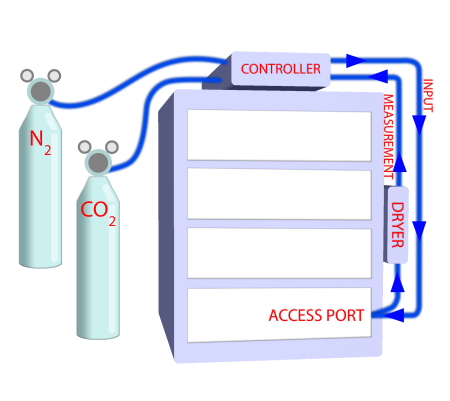 Do you need to add gas control to your incubator?
CO2-O2-CONTROLLER infuses CO2 and N2 in the incubator till set point is reached
Only two tubes enter in incubator to reduce contamination issues
Built in suction pump periodically withdraws gas to control its composition
Magnetic drying reduces gas humidity to increase measurement accuracy 
Doy you want to upgrade your incubator to Oxygen Control?
O2 controller infuses N2 to deplete the Oxygen level in the incubator
Only two tubes enter in incubator to reduce contamination issues
Built in suction pump periodically withdraws gas to control its composition
Magnetic drying reduces gas humidity to increase measurement accuracy 
Available Controllers and Meters